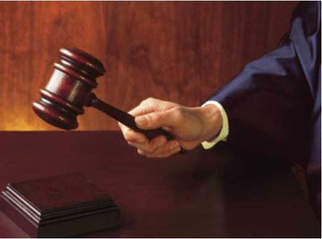 When Billy Graham was driving through a small southern town, he was stopped by a policeman and charged with speeding.
Graham admitted his guilt, but was told by the officer that he would have to appear in court.
The judge asked, "Guilty, or not guilty?"
When Graham pleaded guilty, the judge replied, "That'll be ten dollars — a dollar for every mile you went over the limit."
Suddenly the judge recognized the famous minister.
"You have violated the law," he said. "The fine must be paid–but I am going to pay it for you."
He took a ten dollar bill from his own wallet, attached it to the ticket, and then took Graham out and bought him a steak dinner!
Isn't that a great picture of grace!
I always liked the acrostic used to explain GRACE, God's Riches At Christ's Expense.
We need to remember that our God is "the God of all grace" as it says in 1 Peter 5:10.
We read this in Ephesians 2:7,
"so that in the ages to come He might show the surpassing riches of His grace in kindness toward us in Christ Jesus."
The phrase "surpassing riches of His grace" has the idea of overwhelming and immeasurable riches of His grace.
His grace cannot be measured and it overwhelms us.
The Bible is called "the Word of His grace," and it is the means of our growing in grace.
Acts 20:32 says:
"And now I commend you to God and to the word of His grace, which is able to build you up and to give you the inheritance among all those who are sanctified."
We are also given the Holy Spirit as our power source to live by faith and have victory over our enemies.
He is called in Hebrews 10:29, "the Spirit of grace."
It is only by grace, by the Spirit, that we can live the Christian life not by the flesh.
God has also given us access to Him and He calls it "the throne of grace" as we read in Hebrews 4:16.
"Therefore let us draw near with confidence to the throne of grace, so that we may receive mercy and find grace to help in time of need."
We are needy people and we are always in need of His grace.
During the Great Depression, a man named Mr. Yates owned a huge piece of land in Texas where he raised sheep.
Financial problems had brought him to the brink of bankruptcy.
Then, an oil company, believing there might be oil on his land, asked for permission to drill.
With nothing to lose, Mr. Yates agreed. Soon, at a shallow depth, the workmen struck the largest oil deposit found at that time on the North American continent.
Overnight, Mr. Yates became a billionaire.
The amazing thing, though, is that the untapped riches were there all along.
He just didn't know it!
That is why it so important for us to study God's Word so we can get to know al1 the grace that is available to us through Jesus Christ.
John 1:16 says,
"For of His fullness we have all received, and grace upon grace."
Are we getting the message?
Grace is where it's at!
Blessings!
Pastor Ken Keeler, Director of Church Ministries