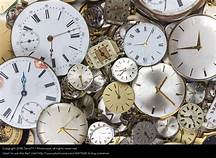 Someone mathematically calculated a schedule that compares the average lifetime with a single day, beginning at 7 a.m.
If your age is 15, the time is 10:25 a.m.
If your age is 25, the time is 12:42 p.m.
If you are 35, the time is 3:00 p.m.
If you are 45, the time is 5:16 p.m.
If you are 55, the time is 7:34 p.m.
If you are 65, the time is 9:55 p.m.
And if you are 70, the time is 11:00 p.m.
That's a little scary for me since I only have 1 hour left!
In Ephesians 5:15-16 we read:
"Therefore be careful how you walk, not as unwise men but as wise, making the most of your time, because the days are evil."
We see that we are to be living wisely and making the most of the time we have left in this world.
None of us know how much time we have left because Christ could return for us at any moment.
Let's hope it is in 2023!
We live wisely when we use the opportunities we have to please and glorify the Lord.
As we are in God's Word and walk by the Holy Spirit consistently, we are provided every day with opportunities that we can seize for His purposes.
An American couple lived in England all of 1992.
While there they observed that some Brits had built high brick walls around buildings to protect them from intruders.
Their concrete tops are often embedded with broken shards of glass, with their jagged points protruding upward, threatening to pierce any trespasser.
It was interesting to watch a cat walk on such a wall.
With extreme care and slow, deliberate moves, it deftly and cautiously placed its paws, one at a time, between the sharp cutting edges.
That is walking carefully!
We as believers need to walk like that.
We need be in God's Word every day and yield to the Holy Spirit's power moment-by-moment, so we do not live carelessly in 2023 but wisely!
Blessings!
Pastor Ken Keeler, Director of Church Ministries