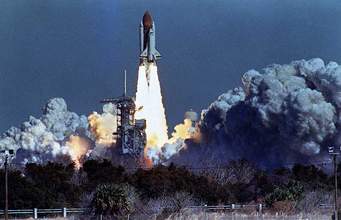 On January 27, 1986, Robert Ebling called his boss to lodge a protest.
He and four fellow engineers concluded that their project contained a weakness that could prove fatal, particularly in below-freezing temperatures.
Because the project had already suffered costly delays, his superiors dismissed them. The next day they forged ahead with the launch of the Space Shuttle Challenger.
Only 73 seconds into its flight, the shuttle exploded due to a failure of the O-rings, and all seven astronauts aboard were killed.
How often have we disregarded warnings and incurred tragic consequences?
There is one warning in the Bible that we might not recognize as a warning:
"do you not know that your body is a temple of the Holy Spirit who is in you, whom you have from God, and that you are not your own?" (1 Cor. 6:15-20)
This warning is given to us in the context of sexual immorality, but we can apply this warning to our lives in a very positive way.
Since the Holy Spirit indwells our human spirit, we house God in our bodies and we now do not belong to ourselves, but to Christ.
Why? Verse 20 answers that:
"For you have been bought with a price: therefore glorify God in your body."
What was the price? 1 Peter 1:18-19 answers that:
"knowing that you were not redeemed with perishable things like silver or gold from your futile way of life inherited from your forefathers, but with precious blood, as of a lamb unblemished and spotless, the blood of Christ."
What should be our response to our being bought with a price, the precious blood of Christ?
We are to glorify God in our body.
We do this by letting Christ express  His resurrection life through us. 2 Corinthians 4:7 says:
"But we have this treasure in earthen vessels, so that the surpassing greatness of the power will be of God and not from ourselves."
Later in verses 10-11, we read this:
"always carrying about in the body the dying of Jesus, so that the life of Jesus also may be manifested in our body.  For we who live are constantly being delivered over to death for Jesus' sake, so that the life of Jesus also may be manifested in our mortal flesh."
We were crucified with Christ so we died with Him, and we have His life because we were resurrected with Him.
In 2012, thanks to a rapper named Drake and the vehicle of social media, "YOLO" became a popular acrostic.
It stands for "You Only Live Once."
Its underlying meaning is that my life is mine, and I get to live it how I want to.
We, as believers, should reject the cultural meaning of the YOLO motto while making a full admission that life is not found in us, but in Christ alone.
Since "You Only Live Once," we need to remember that we share in Christ's resurrection life, and this is where true life is.
The wise choice is to yield ourselves moment-by-moment to His Life in us and spend our days following His ways for He is the true Source of life!
This should be our YOLO!
Blessings,
Pastor Ken Keeler, Director of Church Ministries